Next Swedish dance
----------
Sun 26 Nov 2023. 3.30pm to 7.00pm
Cost £10 (cash) (accompanied children free)
Venue:
St Peters Church Hall, Henleaze, Bristol BS9 4LD
---------------
Contact for further info and to book your place lizempson5@gmail.com
or phone 07817 948291
or pay on-line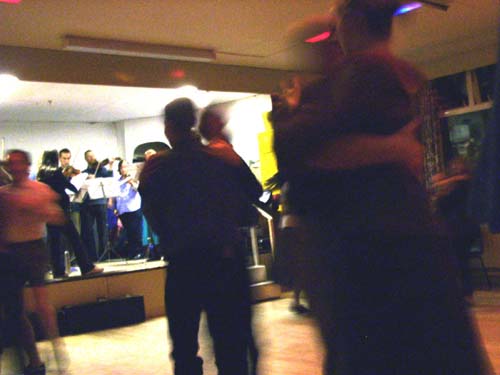 The Dance
Most of the dances are couple dances (but you don't need to bring your own partner) and involve turning on the soles of your feet. You need to wear smooth-soled shoes - not your newest trainers! The dances include polskas, schottises, mazurkas, snoas and waltzes. We show you the various dances and give a bit of basic tuition - but we are enthusiasts, not experts and won't be running a detailed workshop. However, you should be able to join in most of the dances without too many problems.
We take a break halfway through the evening - a chance to chat while sampling some Swedish crispbreads, cheeses and cakes. We also provide squash to drink, tea and coffee (instant) and a kettle. You can bring your own beer, wine, fizzy pop, real coffee etc if you like.
If you don't want to dance you can just listen to the excellent music.
The Musicians
Bristol Spelmanslag is a group of about 10 musicians with a variety of musical backgrounds, brought together by our love of Swedish folk music. We play fiddles, flutes, nyckelharpa, cello and accordion. We meet to practice and to share new tunes every couple of months. In addition to our annual dance, we have played at various private events and also in the cafe at IKEA! We also love to play for dancing! If you are interested in joining us or booking us for your event, please get in touch. Details top of page. See more images and videos below.